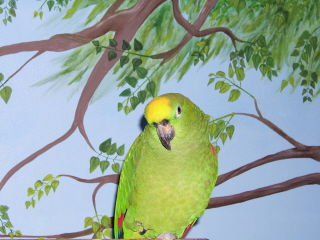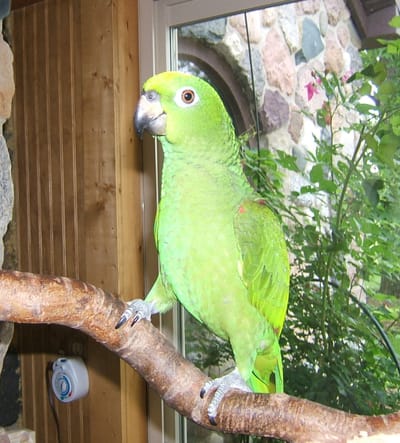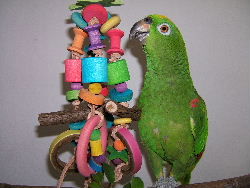 Welcome to The Laughing Parrot! Thank you for choosing to support a small business!

My name is Carol. I am the owner of The Laughing Parrot as well as the toy designer, office manager, secretary and bookkeeper. I handle all of the ordering, inventory control, shipping and receiving! If you order a toy designed by me - it will also be made by me!

I have a flock of 3 Amazon parrots at home who share a room of their own.
Yellow Crowned Amazon Huey (a.k.a. Baby Huey) hatched in 2003. Huey was the first Amazon baby that I raised. (We no longer breed parrots). Huey has a large vocabulary and sings a number of songs including Old McDonald, Take Me Out to The Ballgame, Little Brown Jug and You are My Sunshine. Huey is a laughing, singing fool and it's for him that The Laughing Parrot was named.

Bud and Bubba, both full brothers to Huey, are the best of friends and are always together.

Bud, hatched in 2006, talks very well and uses many full phrases in context, even so, he is not the accomplished singer that his brother Huey is.

Bubba, the baby in our flock, hatched in 2008. He doesn't have quite the vocabulary his brothers do but he does talk, whistle and tries his best to sing along. His favorite phrase is "Tickle, tickle - Tickle your belly!"

What got me started....
I began making bird toys for my own birds then started selling them to members of my bird club. From there...The Laughing Parrot just began to take on a life of it's own. The Laughing Parrot has been in official operation, holding a valid, legal business license since April of 2004.
We are in no way affiliated with any other person or persons who may have casually operated under a similar name prior to that time or who may have since then opened a business under a name similar to The Laughing Parrot.

Formerly a breeder of White Capped Pionus, Mustached Parrots and Yellow Crowned Amazons, I no longer breed birds of any kind. My very first parrot was a Quaker named Hiccup. After that came a Red Bellied Parrot, a Blue & Gold Macaw, a pair of Vos Eclectus and my sweet little Mustached Parrot Zipper who I miss VERY much.

A few of the personal beliefs that I stand by....: I believe that all baby birds should be allowed to fledge completely before flight feathers are trimmed. This includes learning how to properly corner and land without incident. Some breeders clip the wings soon after the very first flight before the chest muscles are fully developed and the baby has had a chance to learn to maneuver and land properly. This often results in crash landings that bruise keel bones and break tail feathers.

I believe in feeding a daily diet of nutritionally complete pellets which contain no artificial colors or flavors. In addition to pellets, my own flock is offered a variety of fresh greens, vegetables, a little fruit and a few nuts every day. Along with this, they also enjoy a variety of seeds such as pumpkin, squash, pepper, melon, star anise etc. However, I do not feed commercially prepared seed diets of any kind. I frequently prepare special cooked recipes to add variety to my birds diet and keep things interesting. A selection of these can be found in the RECIPES section of this website.

Feeding companion parrots can be a controversial subject. I have tried many different types of diets for my birds. The method that I have settled on is the one that I feel seems to best suit my flock. My parrots are all healthy, happy and have an iridescent glow to their feathers - a sure sign of overall good health! Of course, you should use your own good judgment when deciding what works for you and yours.