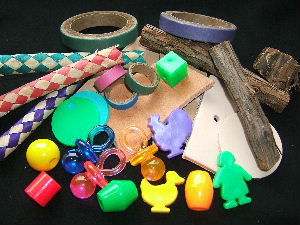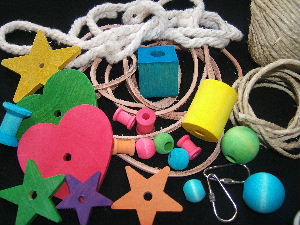 What began as colorful, interesting, hand made toys for my own flock of parrots eventually evolved into a small business now known as The Laughing Parrot.
As a bird lover and a business owner, I would never consider selling toys that I did not feel were safe to offer my own birds. Therefore...

Safety is a priority here at The Laughing Parrot but as with ALL toys, please use good judgment and supervise your birds while at play. Only you know how your bird plays. Remove toys when cording becomes frayed and of course remove parts that have been broken as well as any toys that you feel might pose a threat to the overall safety of your bird.

Each and every toy design from The Laughing Parrot is tested and approved by our own flock of quality control experts before being duplicated and added to the site. To help give you an idea of the actual size of a toy, we've included photo's of many of the designs being tested by our feathered flock of quality control experts!

All Original, trademark designs of The Laughing Parrot are Made in the USA.
Toys from The Laughing Parrot are created using bird safe parts. Most Laughing Parrot toys include a nickel plated quick link for hanging.
Toys are strung on all natural cotton, hemp, stainless steel wire or Paulie Rope. Paulie Rope is a special polyethylene rope invented specifically for use in bird toys. It is vet-approved and has been in use by toy makers since 1994 with a perfect safety record. It combines special soft fibers and a specific manufacturing process to produce a tangle-free rope which will not harm birds if swallowed.
We hand dye our bird safe hardwood and pine shapes in small batches using human food grade dyes resulting in awesome colors!
Our toy designs may also include any or all of the following:
All natural, organic, wild grapevine, Solid plastic shapes, Bamboo shredders and / or vegetable tanned leather pieces.

From time to time, we may run out of certain parts and at other times some parts may become unavailable. In such cases, similar parts may be substituted.
Please be advised toy part colors will vary. We are happy to accept special orders for toys made with natural un-dyed wood parts. Please contact us if interested.

Keep checking back - we'll be adding new toy designs all the time!
We offer wood toys to teach and entice the most inexperienced chewers as well as chunkier wood toys designed to provide a sense of accomplishment to those who have already mastered the art of chewing.

We've got a great selection of foot toys for the toy box too. Your birds DO have a toy box don't they? A toy box can be as simple as a large, extra food dish or even an unbleached willow basket or plastic storage crate attached to the side of the cage. Fill it with small toys that your bird can pick up with his feet. When they chew parts off of larger hanging toys, don't throw those parts out right away - add them to the toy box!

In addition to the toys created and sold exclusively by The Laughing Parrot, we also offer a few toys from other sources that our own birds just happen to love.

Personal favorites include totally shreddable Planet Pleasures Pinatas, and the ever popular Birdy Boing!
What's a boing? It's a comfy, springy perch or portable play area that simulates the sway and bounce of a natural live tree branch. It makes a great portable perch or play area that can be hung in the cage or from a ceiling hook in any room. I have one in every cage and nearly every room of the house! My birds LOVE them!