PARROT PASTA PRIMAVERA!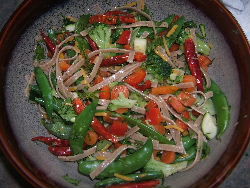 1 cup whole wheat fettuccine or spaghetti broken into pieces
1/2-cup carrots chopped
1/2 cup broccoli florets
1 small garlic clove minced or pressed
1 cup sugar snap peas
1/4 cup red bell pepper diced
1/4 cup zucchini or summer squash, chopped
1/4 cup dried red chili peppers
1/8 cup chopped fresh cilantro and dill
Shredded cheddar cheese
1 Tablespoon toasted flax or sesame seeds
In saucepan, bring 1 cup of water to a rolling boil. Add pasta. Boil 3 minutes, stirring occasionally. Add carrots, broccoli and garlic. Continue cooking 2-3 minutes until pasta is al-dente. Remove from heat. Add peas, peppers, squash and herbs. Stir, cover and let set to steam 1 minute. Drain. Sprinkle with cheddar cheese and toasted flax or sesame seeds. Serve warm or cooled.
With just a few simple alterations, this is a dinner fit for you too! Cook the pasta separately while you saute the veggies in a bit of olive oil. I'd add a little more garlic, leave out the dried hot peppers and maybe toss in some green onions and fresh asparagus - but that's up to you. If you like, add a little cooked chicken to the vegetables while they are cooking. Toss the finished pasta together with the veggies, add a side of hot bread or garlic toast and dinner is served!
BIRDY BREAD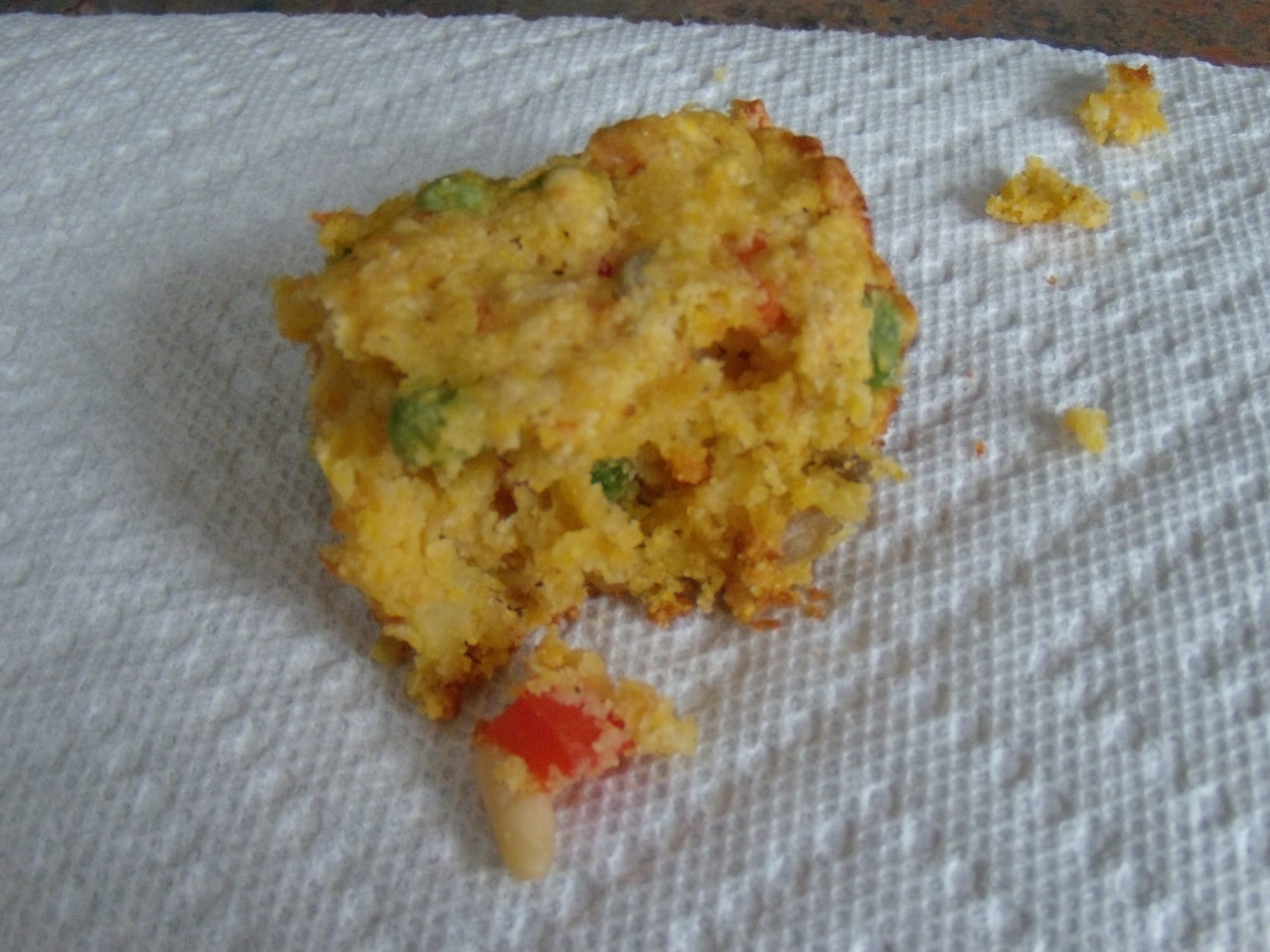 All my birds love Birdy bread! It's easy to prepare and the ingredients can be varied according to what you have on hand or what your birds prefer. Birdy bread is a great way to add vegetables to a picky bird's diet. When I get to the bottom of a bag of Harrison's pellets there always seems to be a cup or two of crumbs at the bottom. I hate to waste anything so I bake a batch of Birdy bread as a way to make good use of those nutritious crumbs. What follows is a basic recipe. You can vary the recipe by using a another type of baby food, experimenting with different vegetables (Chopped jalapenos are favorite of my flock) or by adding nuts, raisins or chopped apples.
1 box of cornbread mix - preferably low sodium
1 egg washed
Handful of spinach washed
1 carrot washed
1/2 -1 cup (about) Pellet crumbs
1 jar of baby food ( squash, mixed veggies, carrots with brown rice)
Preheat oven according to directions on box. Lightly coat a baking dish with non-stick cooking spray.
Use a food chopper or blender to chop vegetables with egg and shell. Add baby food and pellet crumbs and mix well. If you are using raisins, apples or nuts, add them now. Combine with the cornbread mix and cook according to directions on box.
Keep refrigerated or freeze in single serve portions.
BEAN - CORN - RICE SOFT FOOD MIX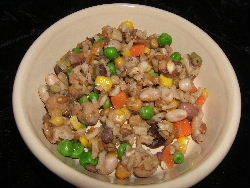 I used to regularly prepare this soft food mix when I had breeding birds. I started serving this to breeding pairs as soon as the nest box was in place. Birds are encouraged to nest when there is an abundant supply of soft fresh food available to feed their chicks. This is also a good choice for young birds just learning to eat a variety of solid food as well as a warm comfort food for birds of any age. Bacteria grows much faster on any food heated above room temperature so always remove any leftovers within 4 hours of serving.
Rinse and soak overnight 2 cups of shelled corn or popcorn.
Also sort, rinse and soak overnight a variety of dried beans (about 2-3 cups), such as navy, garbanzo, kidney, pinto, northern etc. or use one of the 15 Bean mixes. DO NOT use the seasoning packet.
The next morning drain and rinse corn. Place in a large pot, cover with water and cook for 2-3 hours until it plumps up and center is soft. You may have to add additional water as it cooks.
Drain and rinse beans. Place in large stock pot and cover with water. Cook 1-2 hours until beans are done - soft but NOT mushy. During the last hour or so of cooking, you can add lentils and grains such as wheat, oats, rye and / or barley. During the last 20 minutes of cooking add vitamin A vegetables such as sweet potato chopped with peeling, carrots, pumpkin or squash. During the last 10 minutes of cooking, add about 1/2 cup any shape small vegetable pasta.
Cook 1 cup of brown rice according to package directions. To the rice you can add raisins, currants or shelled sunflower seeds.
If necessary, drain excess water from beans and corn. Mix beans, corn and rice together and cool as quickly as possible. I set it outside in the winter or set the whole pot in a sink filled with ice water. Add a bag of frozen peas and if desired a bag of frozen cranberries.
Can be frozen in individual daily size servings. You can put some in the refrigerator to thaw the night before serving or thaw and warm slightly in microwave. I like to add a little frozen mixed veggies when I warm it up.
Experiment with different types of beans, grains and vitamin A vegetables.
Remove leftovers within several hours to prevent spoilage and bacteria.
PARROT-DISE LAYERED SALAD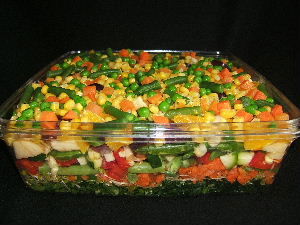 My own birds look forward to fresh vegetables and a little fruit every day. Some days it's hard to find time to wash and prepare all those vegetables. When I know that I have a busy week ahead with little time for washing and chopping this layered salad is the answer. It's also an easy way for bird sitters to serve a variety of vegetables daily without fuss. The large variety of ingredients encourages birds to engage in the natural act of foraging.
The top layer of frozen mixed vegetables super cools the mix while the layer of citrus fruit helps preserve it. Assemble the mix in a tightly sealed plastic or glass container. This will keep 4-5 days. Size of container and amount of ingredients is based on the number of birds you'll be feeding. Prepare only enough to last your flock 4-5 days. Because the top layer is frozen, you won't want to serve the salad on the day that you prepare it - so while you are chopping, remember to set aside enough for this days serving too. I've listed the greens and vegetables that I used to make the salad pictured above but you can use whatever variety you choose.
Wash, dry and layer in the following order:
GREENS, chopped - Dandelion and dill (or Swiss chard, kale, mustard greens, endive, herbs etc.)
VEGETABLES, chopped - carrots, green beans, red bell pepper, sugar snap peas, corn
APPLES, chopped
ORANGES, chopped with or without peel (or other citrus)
GRAPES halved with seeds.
Top with a layer of frozen mixed vegetables.
Seal and refrigerate.
Some people like to empty the salad into a large bowl and mix it up before serving. I prefer to leave it layered and scoop out servings so that each serving includes all the layers of ingredients. To further encourage foraging, mix in a few pumpkin seeds, almonds or other healthy treat.
This recipe has been adapted from the Layered Salad Recipe that author and behavior consultant Pamela Clark has developed over many years. Please visit her website Pamela Clark Online for additional information about feeding parrots well.